New Traditions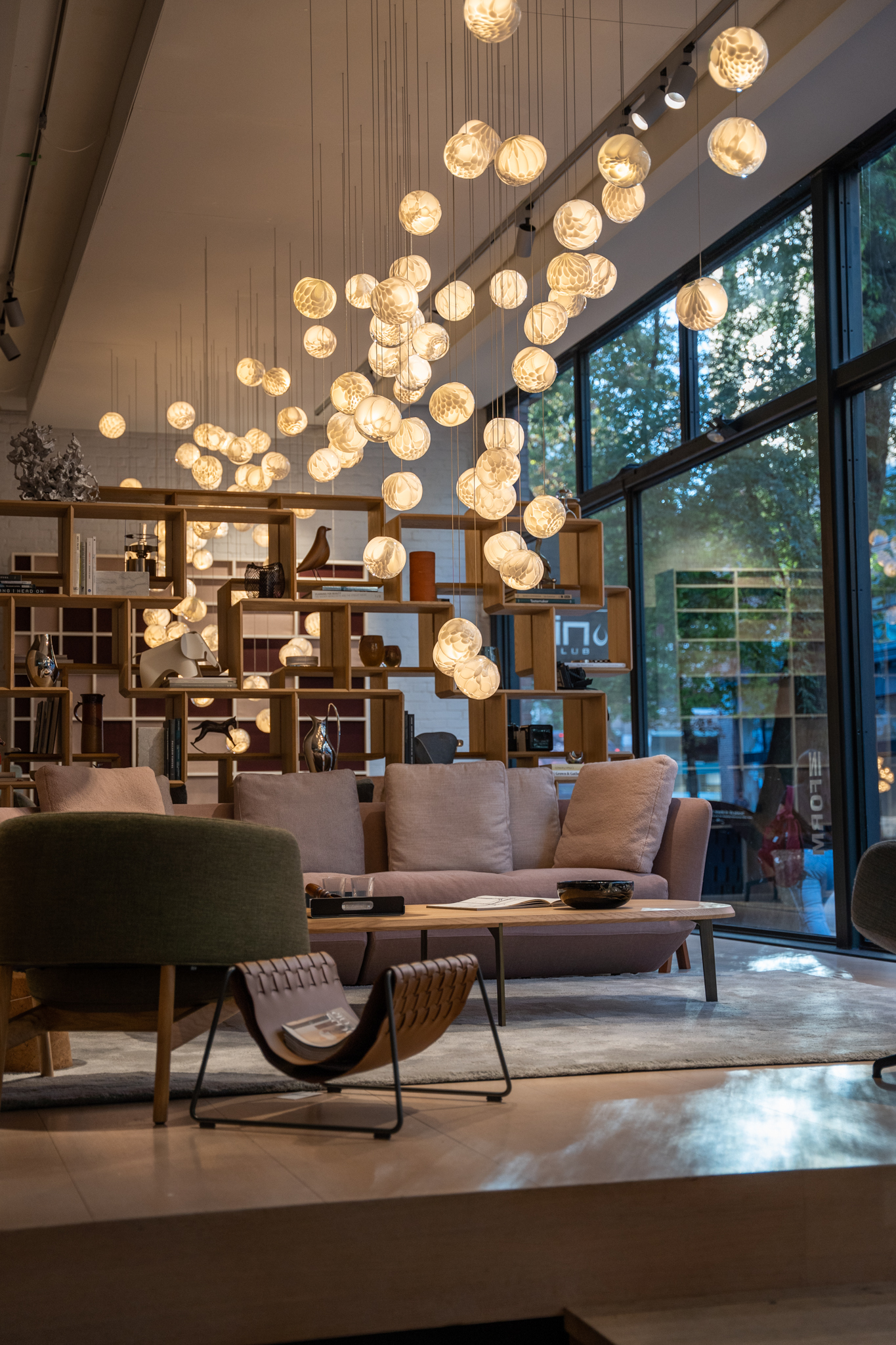 Bocci, Falken Reynolds and Inform have grown alongside each other in Vancouver, and we have a tradition of collaborating on ambitious installations – usually in Inform's large windows facing onto Water Street. So much of our world has changed, but this tradition has lasted because of our shared appreciation for utility, quality and inspiration in design.
This year, Inform turned 60, Bocci rebranded and Falken Reynolds won Western Living's Designer of The Year. We each have our own understanding of what modern design means, and our taste has evolved from large gallery-style presentations to more intimate settings. Our latest collaboration is intended to celebrate each other, west coast materials and the human ecosystem that has made our tradition possible.
West (Large) Window

A cosy double-sitting room featuring 130 of Bocci's 118 pendants, Bensen furniture, a Bocci 1.2 shelf, Unilin Clicwall panels from Upper Canada Forest Products, vintage TV's, and Wittus fireplace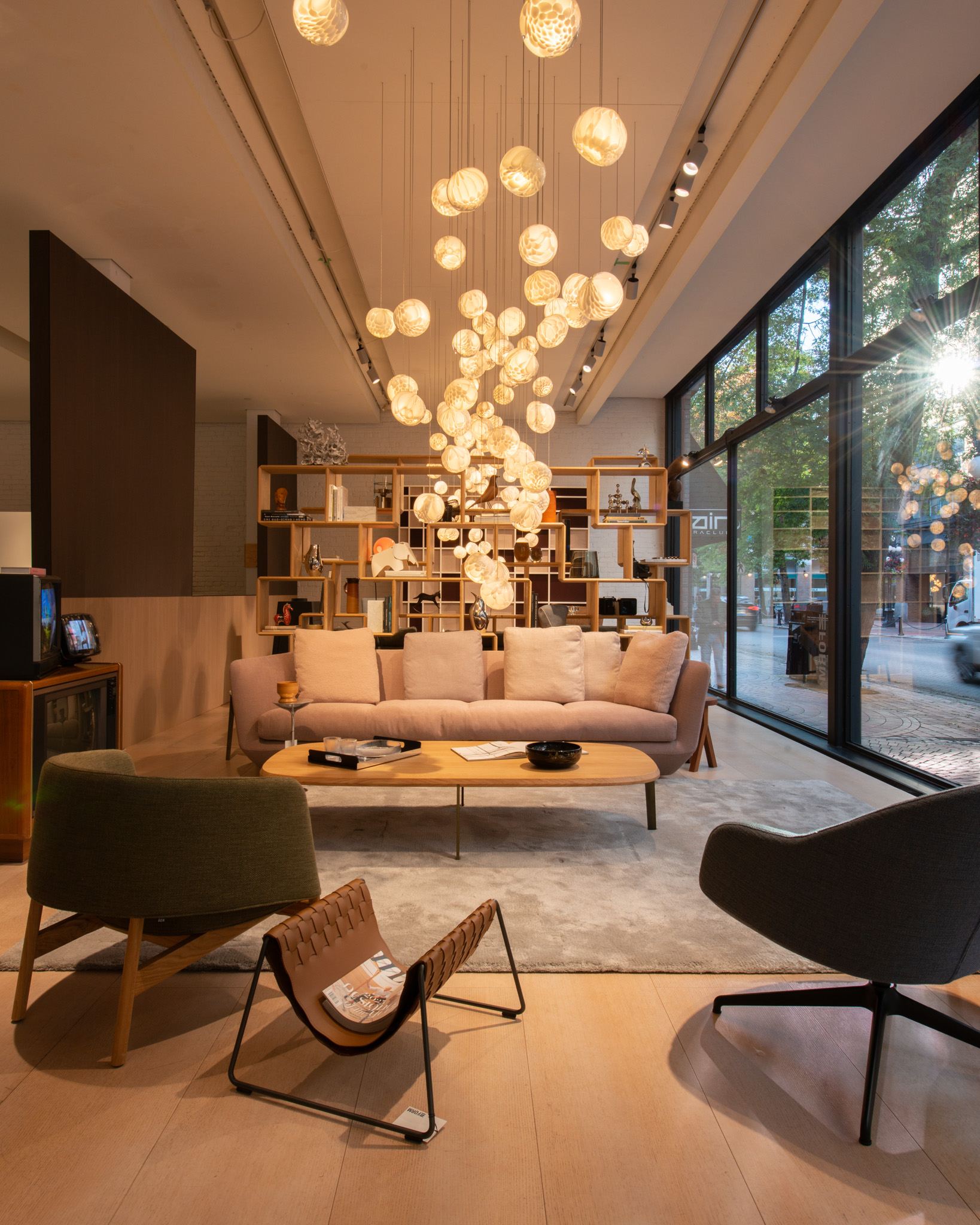 Contrasting tones of sustainable Clic-Wall panels, made from recycled MDF, are used to create a wainscotting effect. Once the installation concludes, the panels will then be reused as wall cladding for the UCFP offices.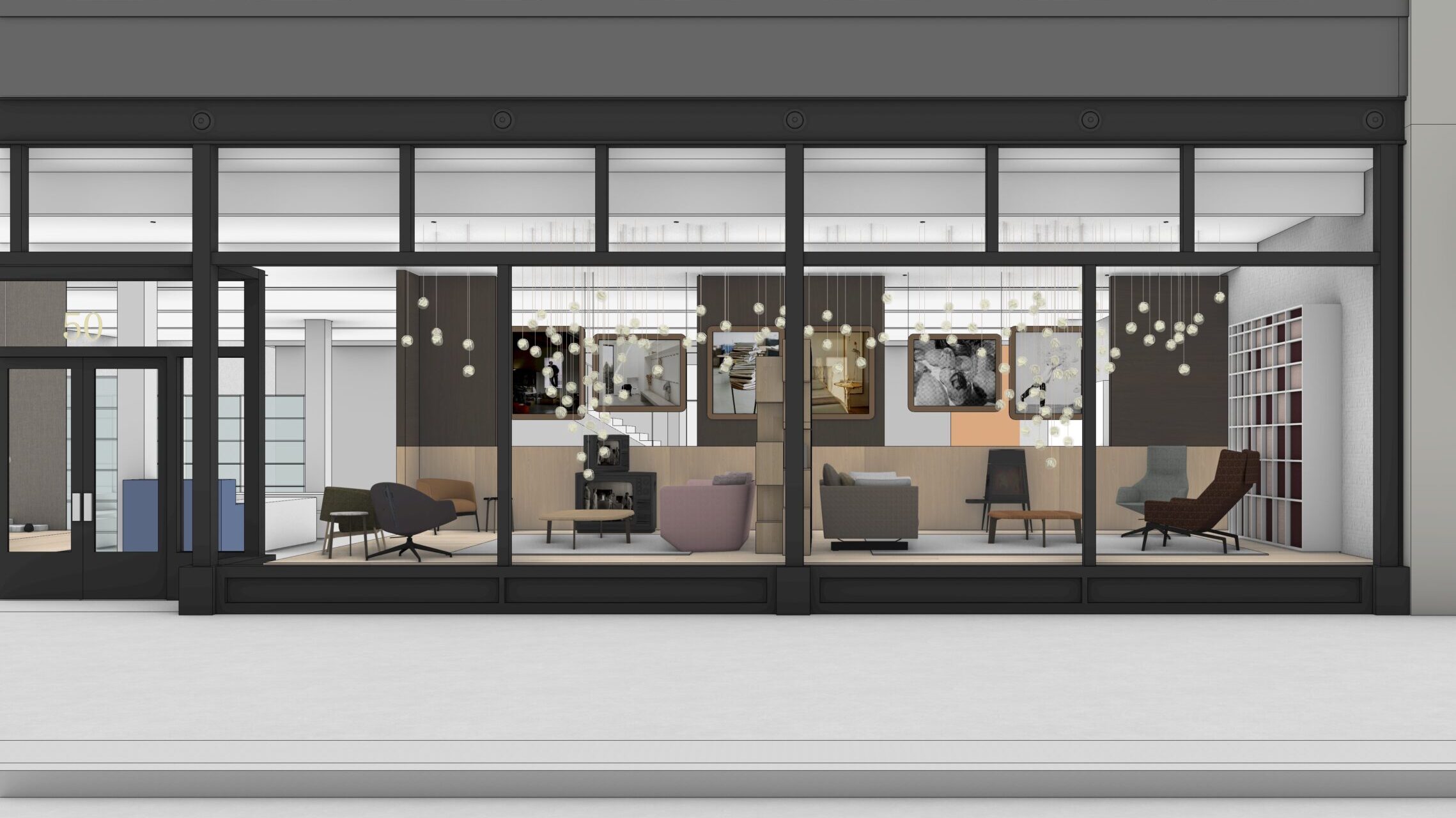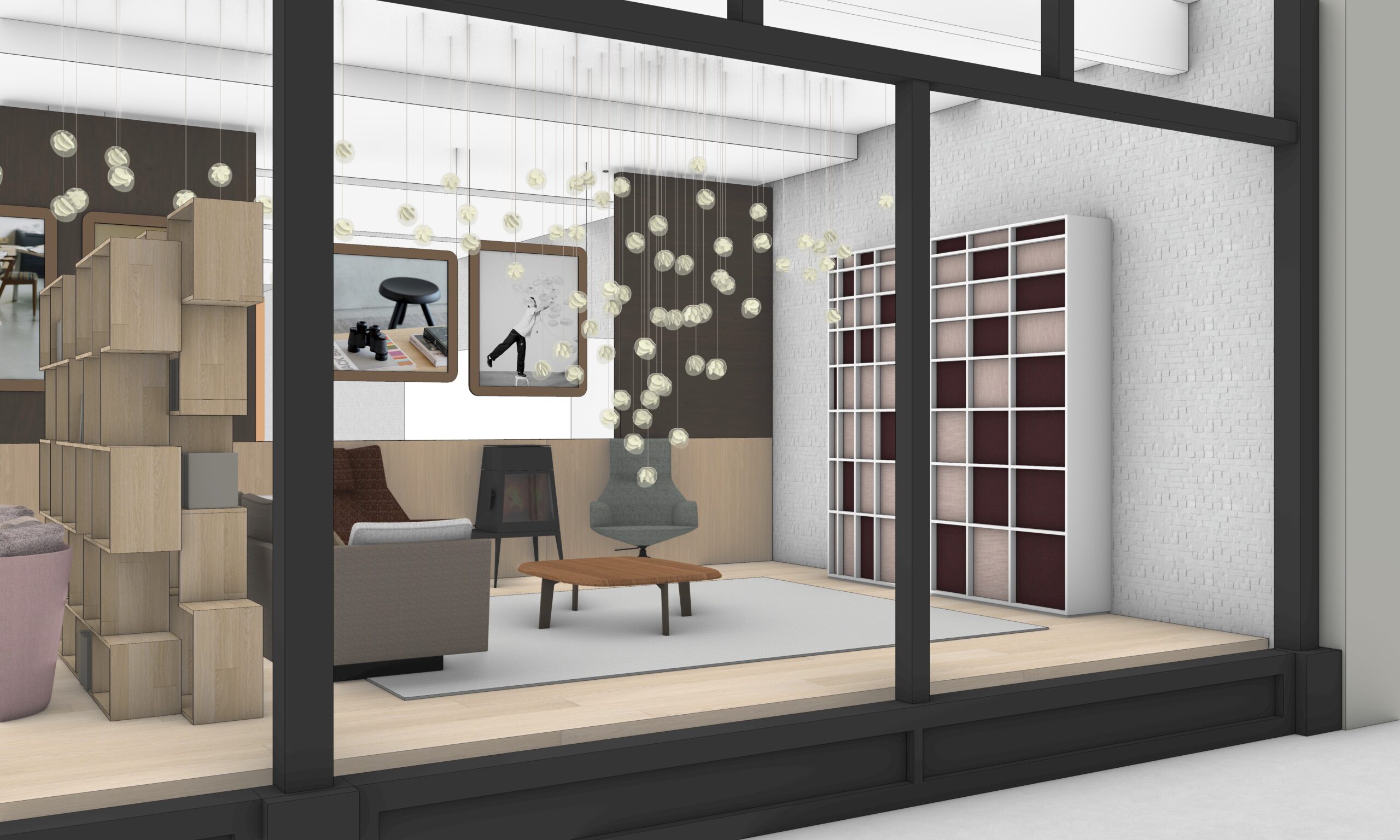 A Shiro Kuratama bookshelf is transformed into a textile display of archived and discontinued Bensen fabrics.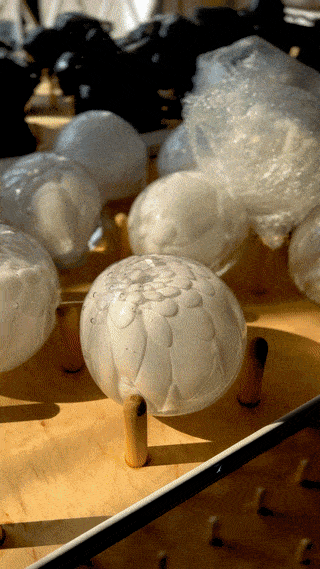 118. Each one contains dozens of tiny feather-like forms in opal glass. When lit from within, these interior intricacies come into even sharper detail.
East (Small) Window

An abstract installation celebrating 60 years of Inform Interiors. Bespoke vases by Bocci, Vancouver Island White marble bricks, black Carmanah split faced fireplace from Vancouver Island Marble, florals by La Bomba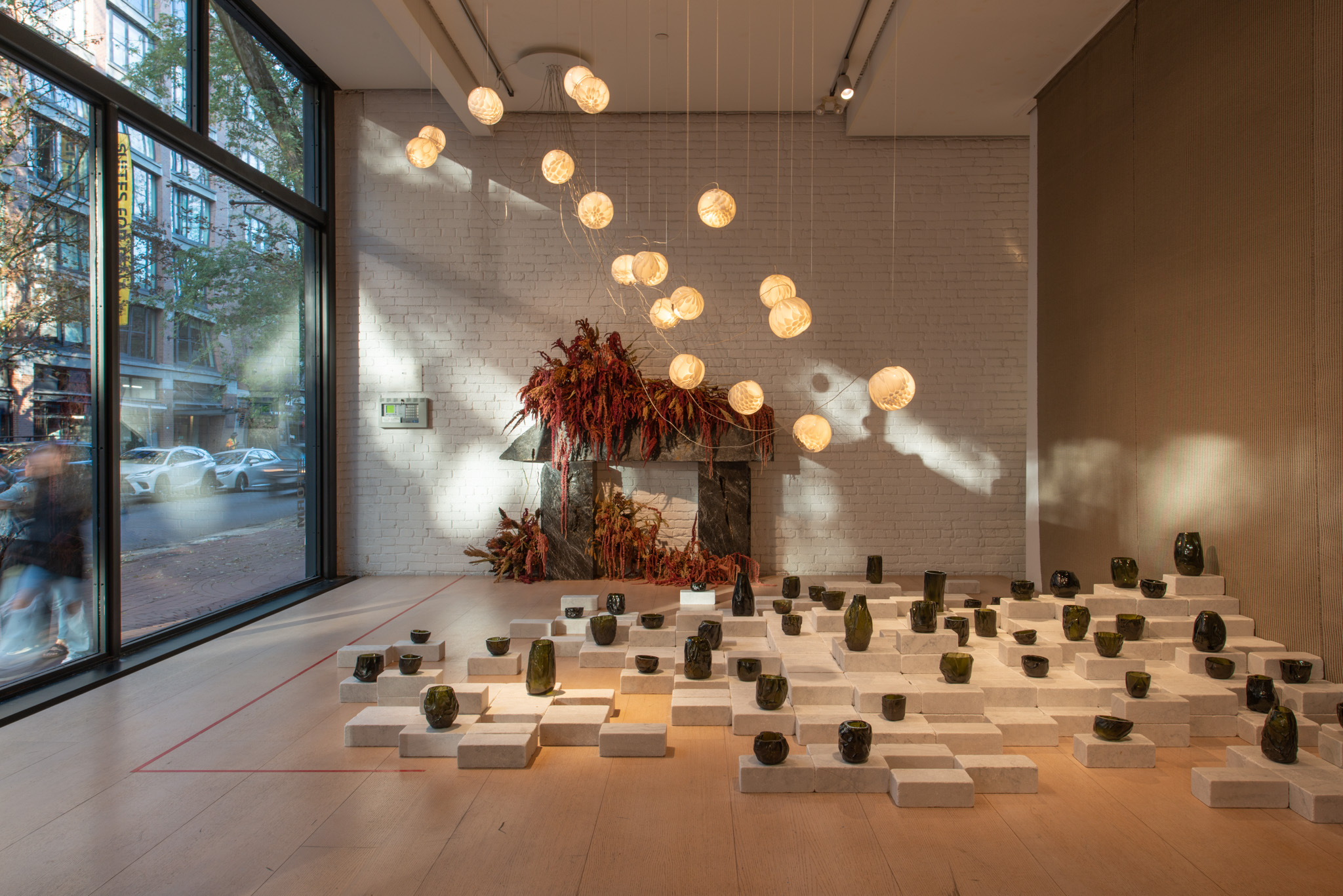 Bocci have produced a limited run of 60 glass objects to celebrate Inform's 60th birthday. The objects are made from a green glass, specially acquired for experimentation and repurposed to make these unique pieces. Molten glass is blown and then shaped with fabric, imprinting its texture on the surface of the finished work. This technique was developed during the production of our 73 series, and has been newly applied for this project. Each piece is a collectible artifact born from our ethos of experimentation in material and form.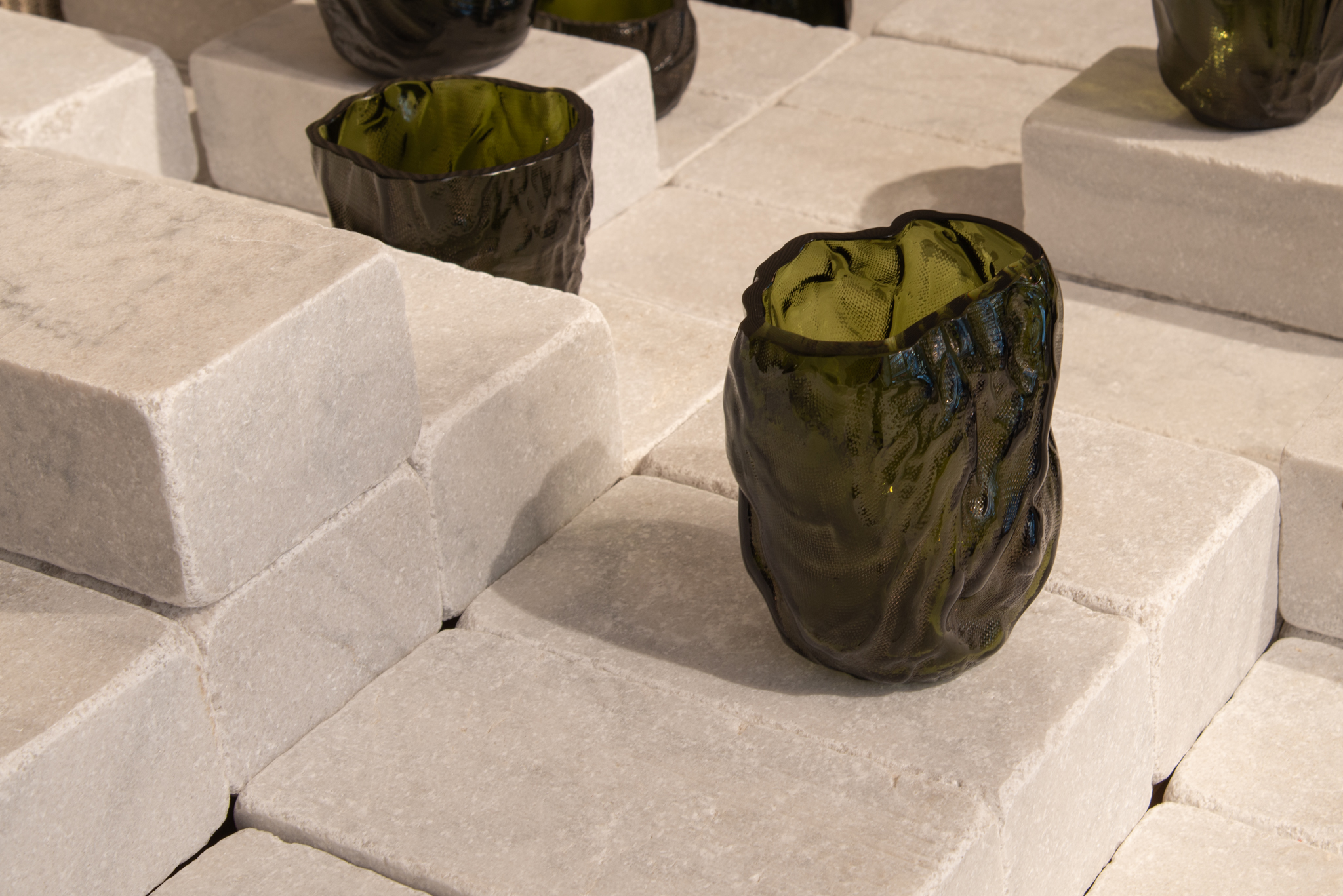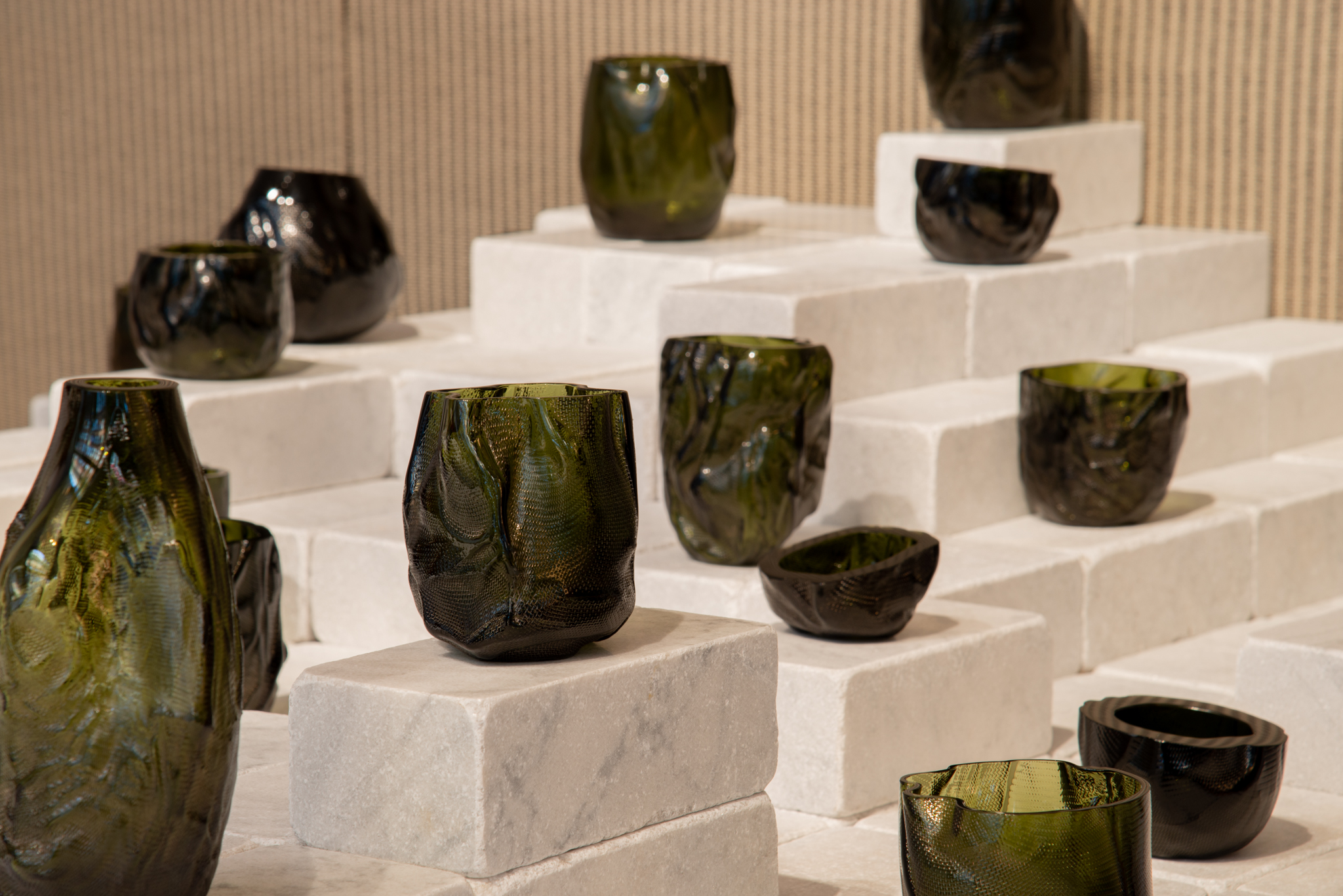 Black and white marble is quarried on Vancouver Island by Vancouver Island Marble.
The fireplace is crafted out of black Carmanah marble. It will be available for private acquisition after the installation.
The bricks are Vancouver Island White marble. After the installation, the bricks will then be repurposed as pavers.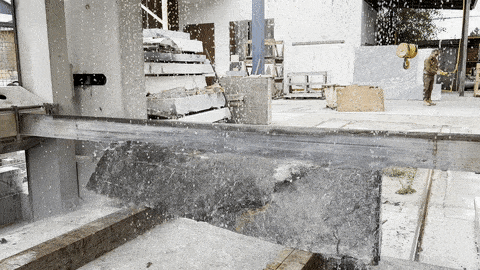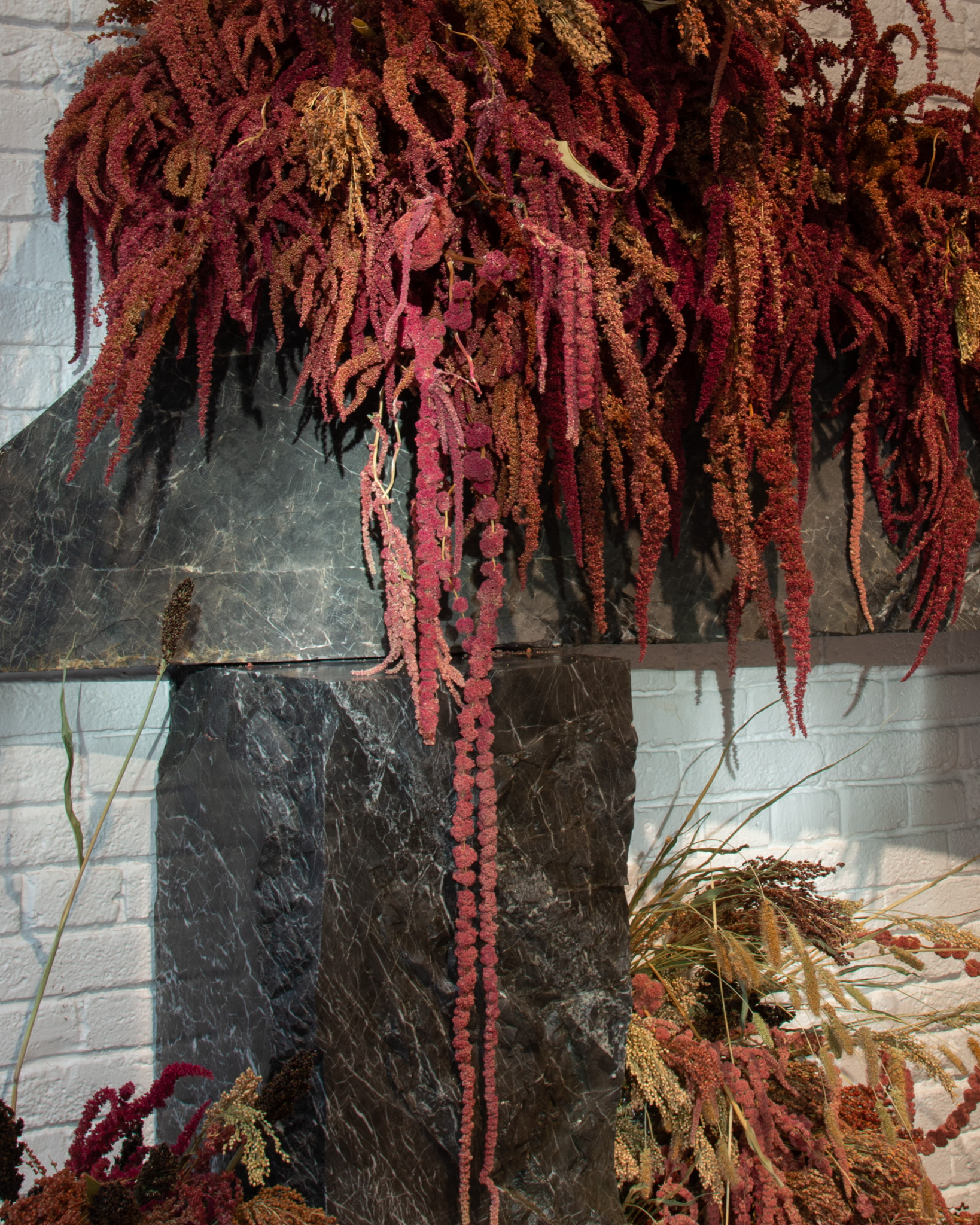 Florals by La Bomba Floristy
An explosion of colour in the palette of fall.
Bocci 118.19 – Sculptural Cable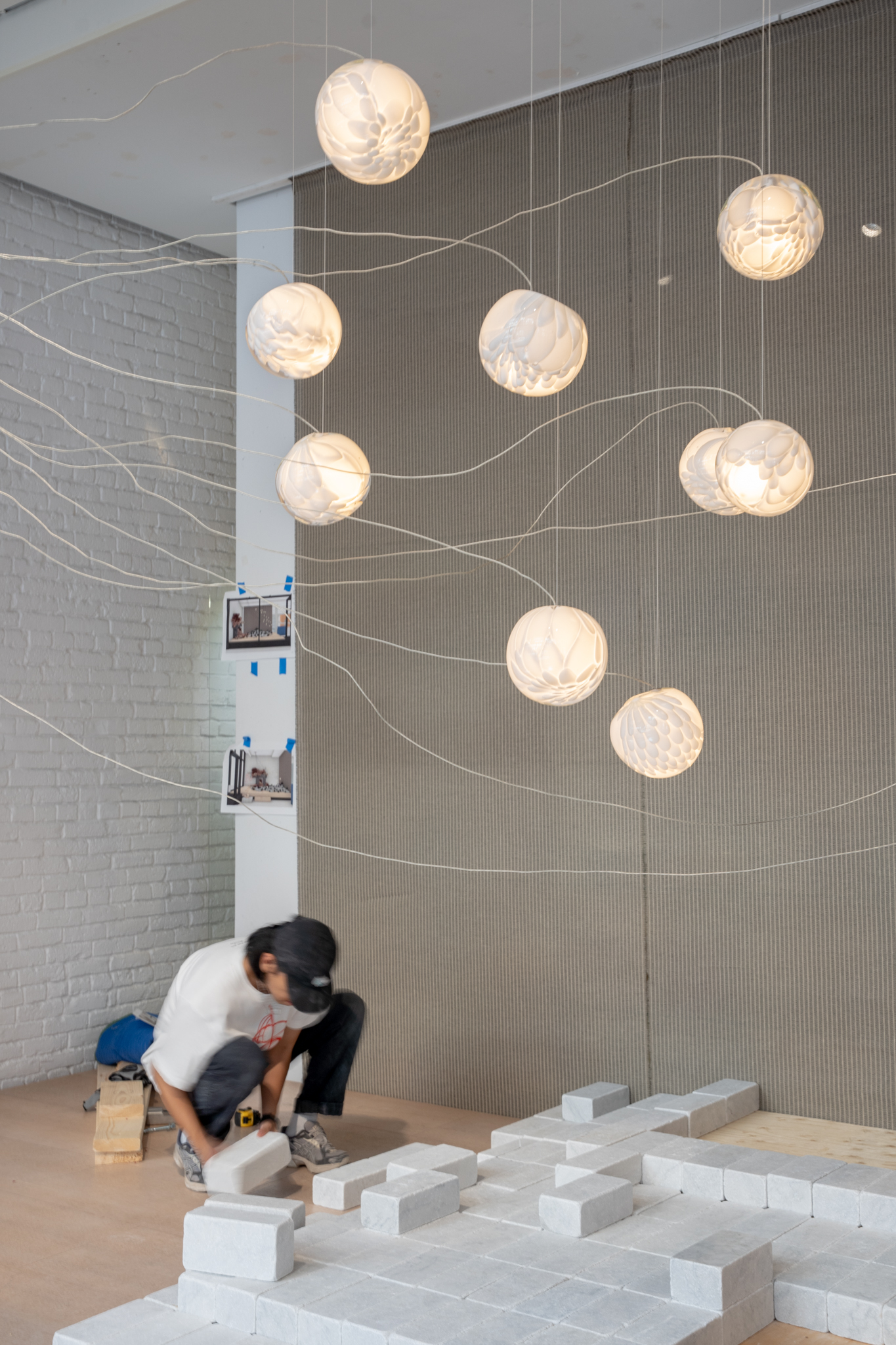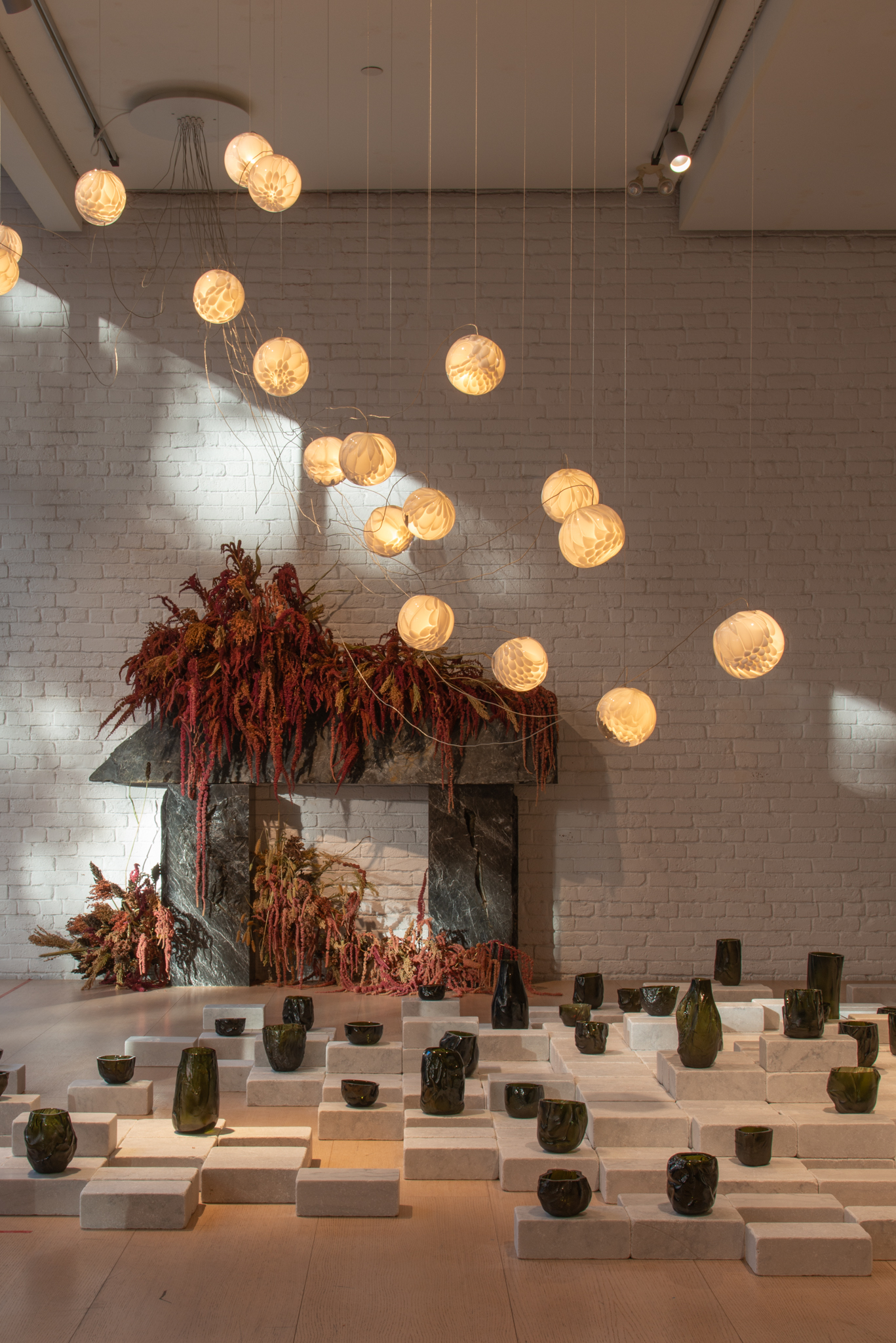 The installation is the expression of Falken Reynolds' and Bocci's shared insterest in material and form. The marble, quarried from Vancouver Island, is displayed in both a natural and controlled state. The Black Carmanah fireplace is split-faced – a natural consequence of the Earth shifting. The White Vancouver Island marble bricks are a digital juxtaposition, inspired by the abstract forms of Bocci's objects.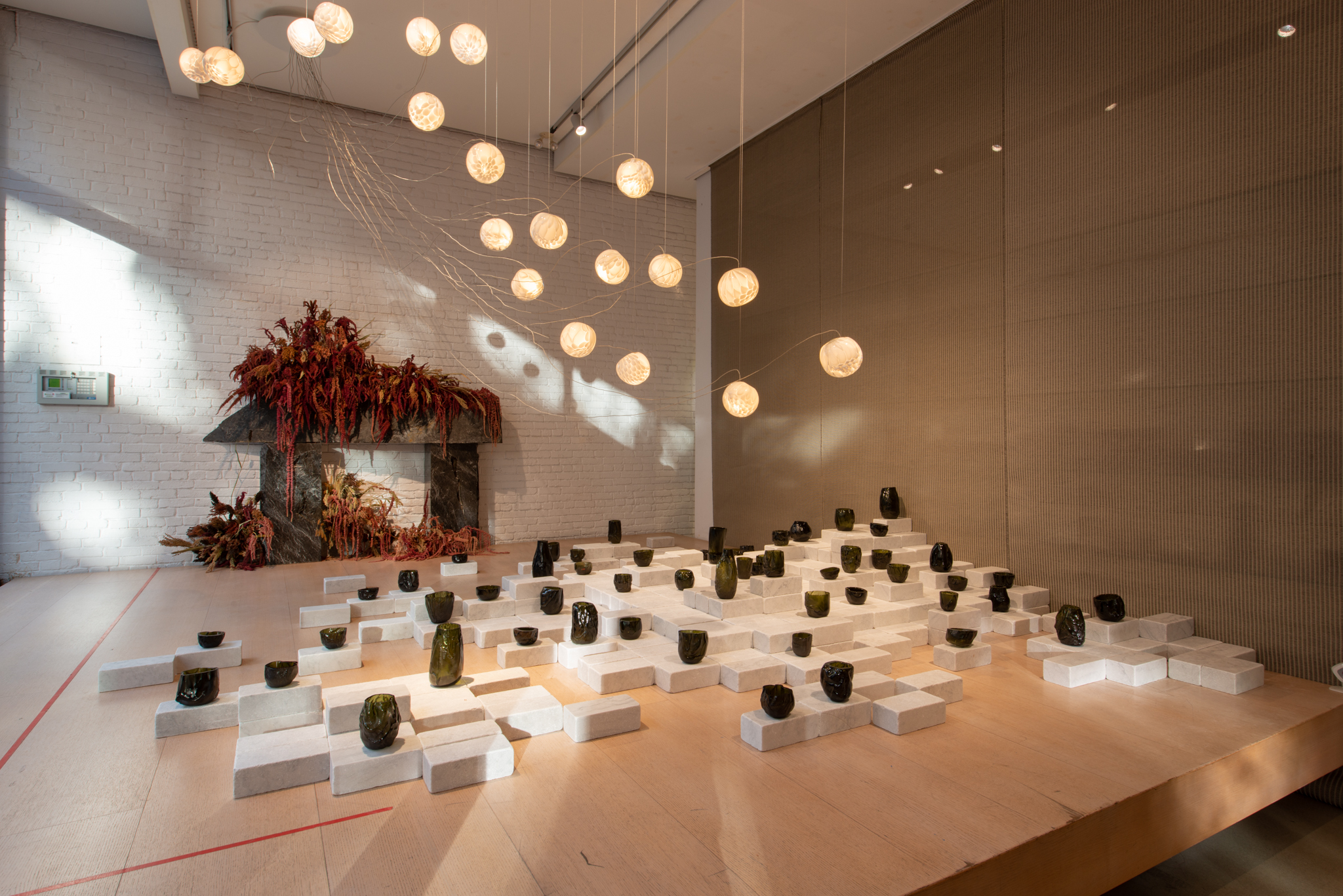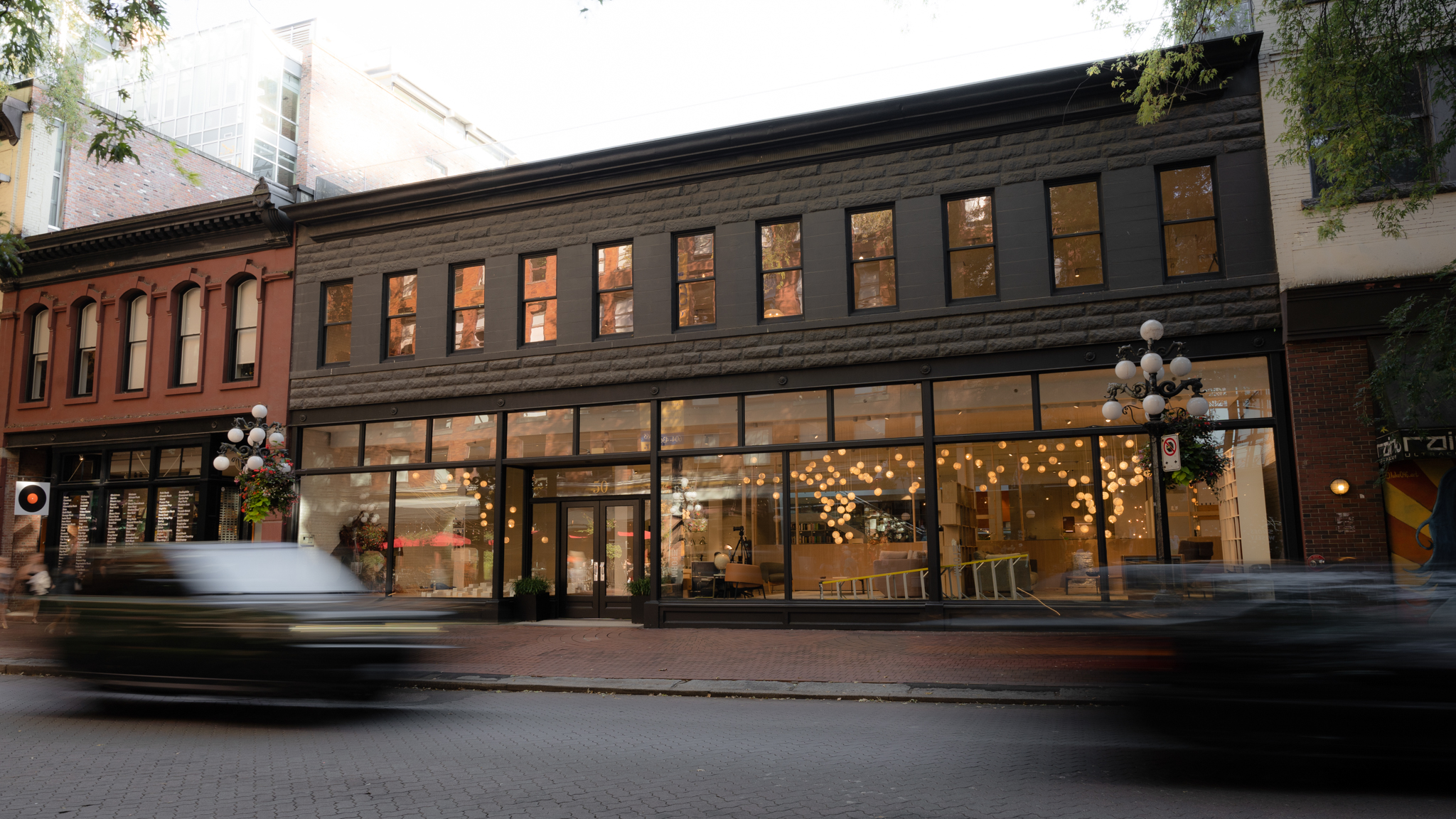 Opening Night Party
On September 21st, Bocci and Inform will open their doors from 4-6:30pm to celebrate this newest tradition. Starting at Bocci for glassblowing demonstrations and cocktails, then walking over to Inform to view the window installation and meet the Falken Reynolds team.